Joyso Golden Retrievers
Presents
CH Goldcaps Revel Rouser of Joyso CD, WC, JH, GRCC VC (April 06 1994 - December 20 2008)
"Revel"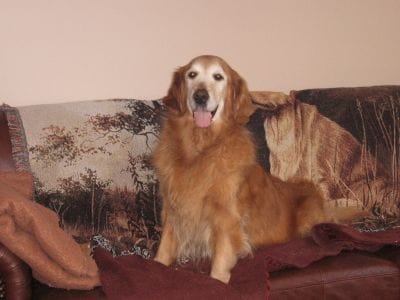 Achievements:
This page is dedicated to my Revie and the lives he touched.
If anyone has any thoughts they would like to express about Revel, please send them to me and I would be honoured to include them.
I have included some pictures from various times in Revel's life, I hope you enjoy the pictoral walk down memory lane.
Thank you so very much for your kind words they have helped more then you will ever know.
Revel, 2 month old puppy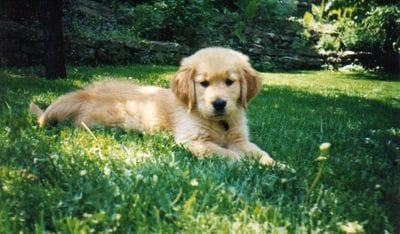 Stevie Aitken, Goldcap Golden Retrievers.
Oh Janet, I Am so so sorry. No one ever loved a dog as much as you loved `your boy`. I know what a huge space his passing will leave in your life, my heart goes out to you. What an extra special joy those little Revel x Mocha bomb shells running around your house will bring to you. A Revel legacy right before your eyes, I am so happy you have them.
Of all the dogs I placed over the years I always considered Revel my greatest achievement, thank you for everything you accomplished with him, for your unfailing pride, for your unfailing humour, and your unfailing pure joy in having him in your life. In all your years together I never, I mean never, heard you say one cross word where he was concerned.
Finally Janet, thank you for always including me in your memories and thanks. That meant an awful lot to me. It is such a shame our dogs spend such a short time with us. They are gone but never forgotten, their memories can always bring a smile to our faces. Talk to me when you are ready, I am always here.
With love, Stevie
The McParland's & Miss Reilly
Dear Janet, Heather and I shed a few tears on reading your e-mail on losing your old pal, Revel Rouser. We lost two super gals at ages 15 as you know and we can appreciate the feelings you are going through. He was the heart and soul of what Joyso represents. Again, so sorry and am sure Shaker will try to capture your heart in a different way that Revel did.Take care and God bless.Heather and Wayne AND Miss Reilly.
Revel, 2 month old puppy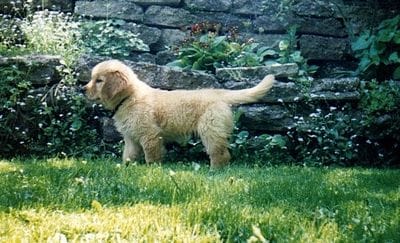 The Leschied family
Janet - we were so taken aback with this news .... we know how big your heart is for Revel .. there is a presence and a wisdom with a senior Golden - oh do we know.....we want you to know that you are in our hearts and our prayers ... these guys mean so much ... but also .. Revel is part of a legacy that now extends to many of us - both directly - but also indirectly - the incredible love and devotion that he showed to you Janet was part of making you into the person you are .. the friendships and devotion that you foster in us all is part of Revel's gift .. and of course the gifts that we now are blessed with .. in our case .. Chimay .. and we know there are scores of others as well .... We will look forward to visiting with you later in this Christmas season Janet With our love Alan, Patti, Chimay and Shadow.
Wendy S.
Janet,tears are falling and my heart is aching with you! Saying good-bye is so hard. The pain we feel is a tribute to our loved dogs, their lives and the joy we have shared throughout their lives. May your memories give you peace and make it possible to smile again later as you remember your special times.
Love Wendy
Doug W.
Hi Janet: How very sorry I am for your loss.What a lucky boy he was to have lived so long in your care.
Both of you have been truly blest.God speed old friend. Doug
Revel, 2 month old puppy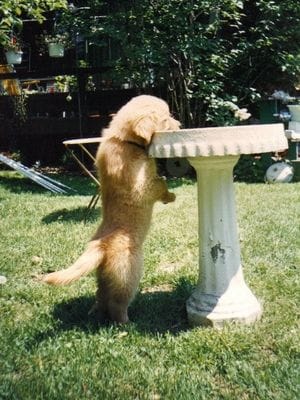 The Paynter family
Ahh ... so sorry to hear about the Revster. We're all thinking of you.
Kim S.
Oh god Janet I am so sorry to hear this news. I had so hoped. He would be ok after we spoke last night. I am glad that you got more than 14 years with him but I'm sure that right now that doesn't feel like nearly enough !! My heart and hugs go out to you right now, if you need anything please call. I'm sure Rev met Karat at the bridge and they are running around together now... She will have surely shown him where all the good stuff is !!
I hope that your tears are soon replaced with wonderful memories that will make you smile
Hugs and hearts !!
Kim
Revel 5 month old puppy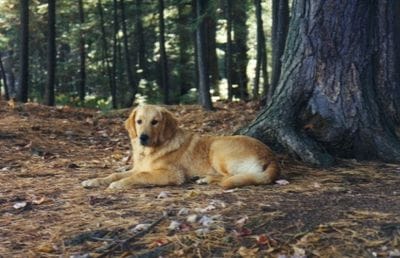 Judy & Pete Z.
Dear Janet:
We cannot express enough our Deepest Sympathy! Revie was truly an amazing dog and friend to all he met. His gentle, friendly manner made it difficult to not want to be with him. He was very proud in his appearance and rightfully so; he was beautiful in soul and appearance. The world was a better place when he was born.... You were the lucky Mom to call him yours, and he loved you more than anything. He knew that life was easy with a strong Mom like you behind him. When I saw you at the vet's on Tuesday it was by luck that I got to see Rev again ( for the last time). I am glad I was able to see him. He is such a special boy! He did not create a disturbance, but needed to leave quietly. I think he was worried about you.....! Checked the website and it brought me to tears. He is amazingly beautiful.... We will miss the Ole'Boy. In "Doggy Heaven" he can return to his 'top-notch' state and wait until you get there to see him again. Sincere Condolences, 2008 has been a difficult year for you! Judy, Pete, Brian, Joey & Buddy.
The Lindie family
Janet, Annette, the girls and I send our sympathies for your loss of Revel.
Nancy W
Janet, A huge hug to you at this time.
As I went and read about "Revie's" wonderful accomplishments I was in awe and in tears. He sounds as if he was the epitomy of what we want our dogs to be. I'm with you on loving our boy dogs too. As you know I had GBS and when I was moved from the hospital to the nursing home (where I resided for 4 mon) the first thing I asked about was if my dogs could come visit (my Dr. laughed and said Nancy most people would want to know if their kids could visit), that was stupid because I knew my 3 mon. twins could come...but honestly they didn't know me like my dog Riley did. He would be brought along with his mother to visit and it helped the healing process immensely. Riley died from stomach torsion 1 year after I was diagnosed with Guillain Barre'. My friend said you know he was your angel and he knew that you were going to OK. For a long time I wasn't as Riley was my heart dog...of course that was back before I knew you could have more than one in your life. My heart and is with you and I know you will cherish each and every memory of your wonderful boy!
Here's to a dog well loved and a dog life well lived! You and Revel were meant to be together and may he live on forever in your heart and memories.
Huge hug from Oregon, Nancy.
Revel 1 1/2 year old with a litter of puppies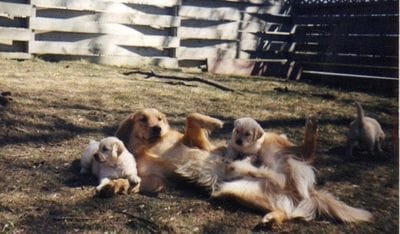 Diane R.
Oh my dear friend, I was so hoping that he would have a bit more time. I'm so sorry --------- words can't begin to express the sadess and wish that I could just be there to give you a big hug and shoulder to cry on. Revie was one lucky boy and he knew it. He gave you his all ----------- everyday. Love, Diane.
Lori W.
I'm so sorry to hear about Revel. At his age you know it's coming but you keep hoping that it will come much later than sooner.
With Splash being 12 1/2 those thoughts come to me quite frequently.
I hope that Shaker helps to fill the big hole left by Revel...tall order for such a little puppy. Those pictures of the two of them together are priceless. Lori.
Ginnie P.
Janet, my heart is with you...
Rest well Revel, after a long and wonderful life. I am privileged to have known you from afar, but I know the immense joy you brought your mama. You will always live in her heart.
Big mushy hugs, Ginnie.
Revel 1 year old at the cottage fishing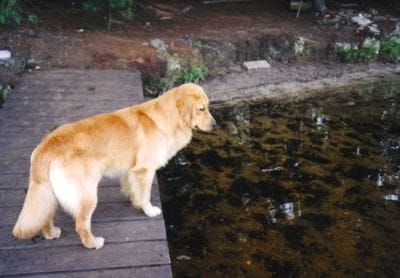 Mary P.
Janet, Revel was a true ambassador for the breed -- everything a Golden should be, and more. I am so glad I got to meet him last year.Sympathetic thoughts are with you on the passing of your once-in-a-lifetime boy.Mary.
Janis S.
Oh Janet, words can't express how sorry I am. I truly feel your pain knowing how much your boy meant to you. Your love for Rev has shone through so many times and in so many ways. He couldn't have had a better life than he had with you. Janis.
Barb F.
He truly was a once in a lifetime boy for Janet. Whenever I talked to Janet on the the phone, she would keep me updated about Revel. He was a true ambassador to the golden breed. Loved being with all dogs and people. He looked fantastic for an old guy at the Speciality in 07. He held his topline and was very sound as well. Janet, hug your Revel babies. They are truly a blessing. Barb Fisher Icamani Goldens.
Revel 2 years old 1st retrieving class (and mine)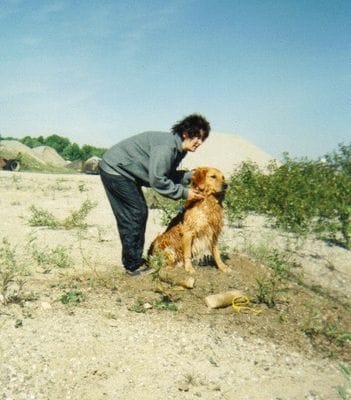 Kathy C.
My heartfelt sympathy, Janet. He was a tremendous fellow and I'm proud to have a little piece of him in Jamie. Jamie charms his way into everyone's heart--I am so glad I got to spend a little time with him before he went to the bridge... Kathy.
Marcia H.
Awww, Janet!
I am soooooo sorry to hear of Revel's passing!
What a great old guy and what a great team the two of you made in the journey of life. He was always so lucky to have you, and you were so lucky to have him.
This doesn't make for the jolliest of Christmases, but I hope you will find piece in the love the two of you shared.
Thinking of you,
Marcia
Revel at the cottage in the fall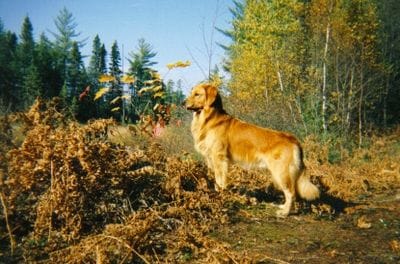 Laurie C.
Oh Janet, I'm so sorry to hear of Revels passing, they do leave paw prints on our hearts don't they. Revel was everything you had ever wanted from him and more, he was a doll from day one, I adored him too for what he was and what he became for you! You might remember he also gave me my very first "excellent" hip rating. Something I will always remember. Hugs for you and Revel Angel too. Laurie
Cathy S.
So sorry to read about Revel Janet. I do know how much he meant to you. And he was a handsome wonderful boy. Cathy
The Fulford family
Sorry to hear that you have lost Revel, Janet. But his memory will live on through the many wonderful puppies that he has sired. As I sit here tapping out this note, one of them - our beautiful Maggie is sleeping quietly beside me. As long as Maggie is with us, Revel's memory will always continue, for not only does she look like he did, she also carries him with her in her registered name Butterblac Joyso Revel's Maggie.
Take care, Janet. Neil
Revel at the cottage fishing, hmmm he seems to like fishin'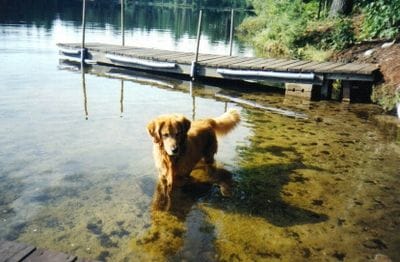 Kathleen S.
Oh Janet... I am so very very sorry to hear that Revel has gone.... there will be three beautiful red boys romping and chasing balls in heaven now (Tyco, Connor and Revel), and hopefully waiting for us to get there to be with them again the pain doesn't get any easier... just the sharpness eases a bit.... these boys take our hearts with them he was a fabulous boy!!! the very very best! Warmest hugs Kath
Kim M.
Janet,I am so very sorry for your loss. May the memories of your beloved fellow help bring a smile to your heart. All the best, Kim
Carole B.
Janet, I am so sorry to hear of your loss. I know just how much you loved Revel and what he meant to you. It must be devastating. You know that you gave him a good life and he knows that you loved him so much and will carry that with him on his journey to Doggie Heaven. Love, Carole
Happy (?) Halloween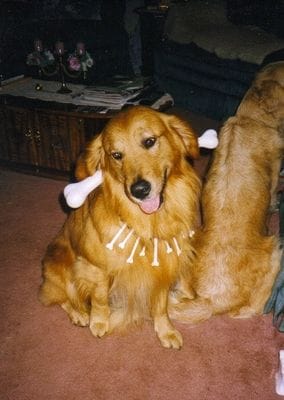 Merry
I especially loved the videos... what a wonderful boy! You were blessed to have him, and he was blessed to have you.
Godspeed, sweet Revel. Watch over your Mom and help heal her heart.
~Merry~
Michelle & Darryl T.
So sorry to hear about your lost Janet. By your words and stories about him I can see he was a wonderful boy.
I'm sure you will look at his offspring and see he hasn't left you without a little something to remind you of him.
I do hope you will have a grandson of his someday that will grow up looking like him and trying his best to match his devotion to you. Our most sincere condolescences. Michele
Revel swinging with his mom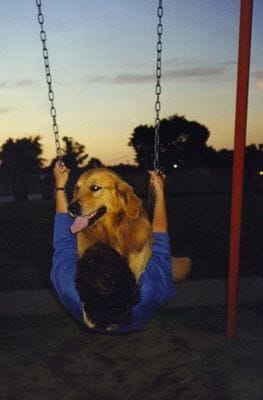 Kate & Chris
Janet,
I'm so sorry to hear about Revel.
Revel was clearly a very special soul and he will surely be missed.
We feel very blessed that we got a small piece of him to enjoy and love for years to come,
Katie and Chris
The Strahl family
Dear Janet,
Am sitting here weeping Revel touched our lives in many ways firstly through Tucker and now through Digby and even though I met him a few times I could see how special he was. Even if he left behind a small piece of him in Digby I will be happy. I know Revel had a wonderful life but feel so sad as it's the end of an era a Revel era he left so many wonderful traits behind we are all so lucky. I still think of Tucker every day and know we were lucky to have him such a short time. Our thoughts are with you and Revel but know you took joy in a life well lived.
The boys are so special and Digby already is stealing a large place in our hearts especially with his Revel ears.
Janet , I know you will miss Revel like crazy but hope Shaker, Patter and Stepper and all your future pups give you joy.
Janet I am at a loss for words but just want to express to you that I am thinking of you.
Lots of Love and all our best wishes, Marilyn and Abby
Terry S, Deb S
Thanks for letting us know Janet. Isnt it nice that Revel lived to see one last litter and also to spend time with Shaker. Our hearts are with you.
Revel at the cottage, you guessed it, fishing !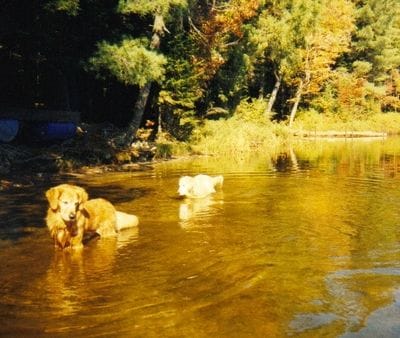 The Loder family
Janet, I'm sorry for your loss, I can't imagine how it feels.
Liz, Tom, Blake and Kona
Lorna R.
Janet, I am so sorry to hear about Revel, he has truly been a special golden boy. Revel has always been very special to me, he was the one that greeted Gord & I when we came to pick our dog and that is when we picked Molson. Revel, I will miss you very much Lorna
Leslie T.
Janet: I am so sorry to hear of Revel's passing. He was a wonderful boy and he will be remembered by so many! We lost our Riley this month too and I know how you are feeling . Take care and remember the good times. Love Leslie
Revel in his back yard, he loved his home!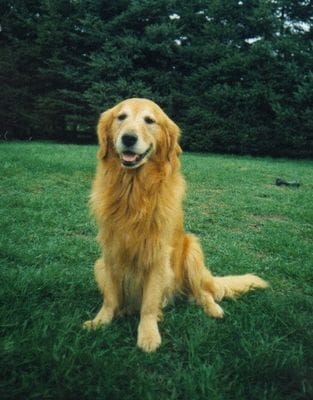 Heather M.
Janet My heart breaks for you! I know how special this boy was to you. Please take care and know one day you shall see your beloved boy again. Godspeed Revel (((Cyber HUGS ))), Heather
Pat H.
Dear Janet,
My sincere condolences on the passing of Rev as I know that he was truly your heart dog. I know that he would not want you to dwell upon his passing but rather that you celebrate the life you two shared. May those joyous memories help you through this horrible time. Remember that Rev will always be with you in a special place in your heart and if you call he will be there. Hugs, Pat Herschman, Camelot
Donna R.
There are no words to describe how I feel with this news. He was so special, so beautiful. I am so sorry.
I'm sending a hug to hold you close. Love Donna
Revel, with a bit more white on his face, in one of his favorite places, yep, his back yard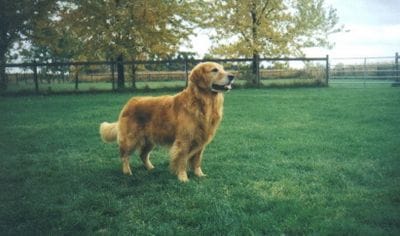 Shelly B.
Hi Janet,
Just read about your Revel. I'm so sorry. You have our condolences. I know how much that boy meant to you. The boys just have that knack of worming their way into your heart!
Mary M.
Janet: I am so sorry for your loss of Revel. I know how much he has meant to you. I hope that someday you can get another boy to try and fill his feet. He was a real ambassador of the breed. Mary
The McLean family
Hi Jan, Oh how very hard it must have been for you. But in the same thought, I know you did not want to let him suffer. So, although it is so difficult for us to let them go, it is the kindest thing we can do. When all else fails and Mother Nature starts showing us that "it is time", all we can do to show our love is let them go in peace and hug them as you did when they do have to go.
There will be a lot of doggie friends waiting for him, so he won't be alone..They will welcome him . And he will be waiting for you at Rainbow Bridge, you can just bet, and come trotting towards you just as he came out of the crate at the Air Canada office 14 3/4 years ago..:-) A special boy he was for sure..And you are right.. There will never be another one like him.. He took a piece of our heart along with him too..The part we gave to him that first summer and fall when we spent so much time with him, here and up at the lake.
What a special place he filled in this family..I miss him so much..And I imagine you feel like such a big hole is in your home right now..and the three girls too. Stepper will be quite sad too, she tried so hard to make him better..and couldn't do it..I am sure she will need reassuring as well. Just enjoy the three lovely little faces that you have there and hug them to your heart. They need your hugs right now too.
Big Hugs to you.. If you want to come over we will be here..LoveMom
Revel, yep you guessed it, in his back yard with a big old smile on his face!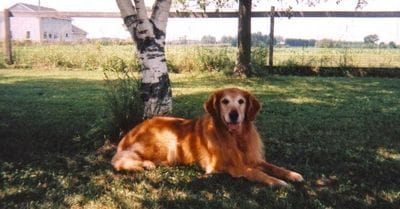 The Payne Family
The kids and Kenny and I took this very hard. We keep looking at Revel's page on your website. We just can't believe it. We have been enjoying your outdoor pictures you have recently send and he looked so good and healthy. We know he was an old boy but he just looked so good. So young at heart. He lives a great life. Amazing life. He brought so much joy and love to all of us. We still can't imagine what you are going through. Our hearts are with you. Know that we LOVE you and we are thinking about you.
Cheryl W.
Dear, dear Janet .... I am so sorry to hear about Revel's passing. I had no idea ... no matter how many times this happens, you still can't help but think that they will live on forever. I'm so glad that you have Shaker to focus your attention on and hopefully she will be able to help you realize that Revel is really not that far away!
Give me a call if you need someone to talk to!
Liz & Don P
Janet, I was looking at your website to see if you had posted any pictures of your beautiful Revel pups and happened across the news of Revel's passing. You know how much our family felt blessed to have our beautiful Shadow, son of Revel and how much we miss him.....I am so sorry for your loss, and hope you find joy in his pups. Please take comfort in knowing how many family's lives have been enriched by your love of Goldens, and especially your love for Revel. Hope we can connect when you feel like a chat.
Revel at my parents such a beautiful white faced boy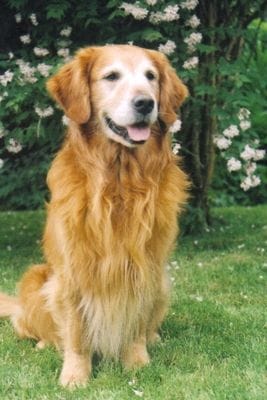 Joanne C.
OK - now I am crying......cherish his memories and watch how his kids and grands will be so much like him ....he was one heck of a dog!
Big hugs from me to you! Joanne
Beth G.
I'm really sorry you've lost him and had to send him away for now. Cling to the thought of the Rainbow Bridge...it helps me through these tough times.
Tobi K.
Oh Janet,I'm so terribly sorry for your loss. Please accept my sincere sympathies. They are never here with us long enough. I know how much it hurts all too well.Sending you a huge hug from PA. Tobi
Francine & Wolf K.
OH Janet...We love you. Revel can play with Nico in heaven.
Lisa Mc.
Janet -- So sorry my dear -- What a wonderful life you had together. Lisa
Brian & Steph
So so sorry.
He was very dear to me and Brian was very fond of him too....but he was still my sweetie.
So sorry. I feel for you, words don't cut it. I share your pain. Hugs, Stephanie
Revel in the fall of 2008 @ age 14 +, happy in, you guessed it, his back yard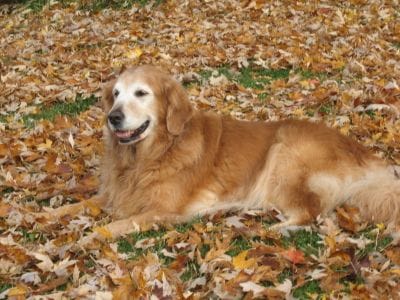 Suzi B.
Janet, I was so very sorry to read about your loss of Revel. No matter how long we have these wonderful Golden spirits in our lives, it is never long enough.
I am not sure if I have shared my thoughts about life and dogs with you before (I probably have, so you will have to indulge me for a moment.). Our dogs live in the moment, while we live within a "lifetime." We learn so much from our dogs. I often try to imagine what it would be like, if every single moment was a lifetime, because, for our dogs, for Revel, that is what life is all about . . . moments of lifetimes filled with love and joy.
Now, I want to share a Hassidic tale with you, that I was introduced to "once upon a time."
One day a Rabbi gazed through the window of his study which looked out upon the marketplace. People were hurrying to and fro, each attending to his or her own particular business. Suddenly the Rabbi saw a familiar face."Hikel!" he called. "Come in, I want to speak with you.""Shalom, Rabbi, how are you?""Thank God, I am fine. Tell me, Hickel, what were you doing in the marketplace?""Oh, I'm very busy today. I have a lot of business to take care of.""Hikel," asked the Rabbi, "Have you looked up at the sky today?""At the sky, Rabbi? No, of course not. I'm too busy to look at the sky.""Hikel, look out the window and tell me what you see.""I see people and horses and carriages, all rushing around doing business.""Hikel, the Rabbi said, "in fifty years there will be other people in other carriages, drawn by other horses, and we will not be here. And, Hikel, in a hundred years, neither he marketplace nor this town will even exist. Look at the sky, Hikel look at the sky!"
You and Revel never missed "a look at the sky."
I will light a special candle for you and Revel tonight.
Suzi
Revel doing what he did best, enjoying life!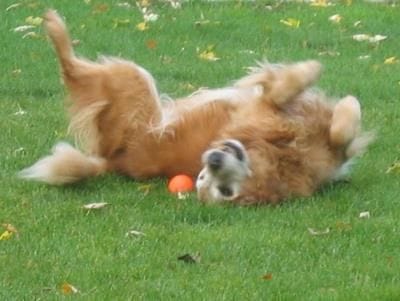 Helene P
You have to know how my heart aches so very much, over Our Revel's leaving us. I just thought he was so indistructable, He has taken a piece of me as well, What a dear soul. His son and I had a talk today, and Janet I feel your pain. I'm not doing any mail right now, but what I can. I just hope you know that we know what Rev, meant to you, and all of us, and our heartfelt support, and love go out to you. I guess I can't do any thing more for you. We love you, and I need only say I look at Gilly, and I feel your sorrow. Please know that if I am not always answering , I just have to take it one day at a time. Thank you for sending this note and the pictures. Love you always, Don and Helene
Micki G.
It is so hard to lose them...and yes, there is nothing like the boys...M
Pat F.
My god Janet, I am SO sorry to hear that your Revel left for the bridge...tears are running down my face as I write this as I know how much you loved him and he you too!!! You had a special one in Revel, such a character and he sure lived up to his name! 14 and 3/4 years together means that you'll have had so many memories to revisit, once this raw grief has passed and you can think straight again. Please remember him with smiles as he would have liked rather than with sorrow. His memory will, I know, always be cherished in your heart and he's only left you temporarily you know, you will meet again in the dreamtime...another bright star in the sky tonight!
With my love and deepest sympathy
Pat XXXXX
PS: Cherish the little one!
Revel ...more fun... in his backyard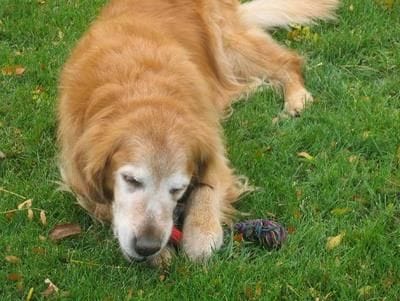 Diane & Al L.
Hi Janet: Prayers for you from Al and I.
I can relate as to how you feel. No matter how long we have those special ones, it's never long enough.
Love, Diane and Al
Jo-anne G.
I am so very sorry to hear about this..there are no words..thinking about you..love, Jo
Bob & Donna T.
Hi Janet,
We both had tears in our eyes as read your letter and looked at his pictures.
He was special to us as he helped us through a rough time with the loss of Brandy .
A lot of people say they know how you feel but they don't unless they have had the loss.
The golden boys are one of a kind, they are all heart breakers, time makes it easier but you never forget them.
We are both so sorry for your loss we do know how it hurts.
Goodbye for now we will talk later Bob and Donna
Revel and his daughter "Stepper" aka Joyso Butterblac Rehab Reward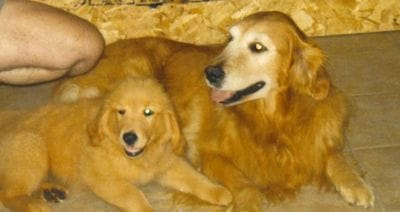 Brian & Janet S.
Janet,
I'm so sorry to hear about your loss of Revel. Please accept my deepest condolences.
Brian
Gail B.
Janet: I and undoubtedly many others, know the heartbreak you are feeling. You know it's coming and you try to steal yourself for the pain but it just doesn't work. It comes anyway.
Funny how those boys just know how to win us over, they are devoted, gentle and steady, no mood swings, just happy to do your bidding. Thinking of you. Gail
"I could have missed the pain but I'd have had to miss the Dance" - from The Dance by Garth Brooks.
The Duncan family
Hunter will have someone to show him the way. Someone he can look up to. Hailey is still looking for Hunter but I'm sure she will come out of it. Revel is deeply missed ...Rob & Kelly
Revel and his daughter "Shaker" aka Joyso Sonyc Mover N Shaker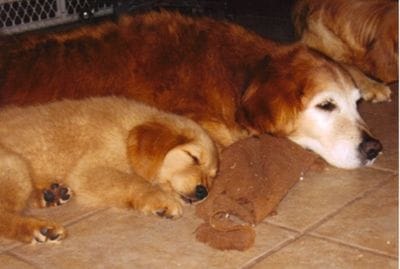 Kathy W.
Janet, Pat let me know about Revel and I just wanted to send my deepest and very heartfelt condolences to you. He was a great boy and I enjoyed meeting him when Devon and I came up to visit.
The Osadca Family & Bear
Hi Janet Sorry to hear about Revel. Jan & Jerry
Kay W.
I am so sorry to hear about Revel passing.
I did not know your dog but I know that wonderful Golden heart. When they leave us, they take our
hearts and part of our souls with them. You have my deepest sympathy.
Kay Walker
Revel teaching his daughter Shaker how to "play" in the snow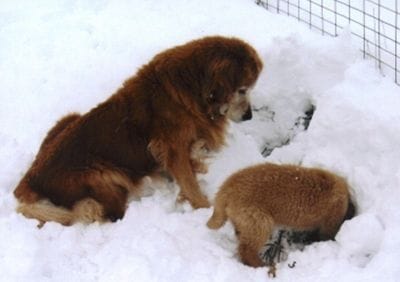 Lynne T-R.
Aw poop and, he was doing pretty well right up until now. I'm sorry he's gone, sweetie. Lynn
Fran K.
Dear Janet,
I am so sorry at the loss of your beloved Revie. I agree with you that the boys really do steal our hearts. I hope that the pain will begin to heal soon. We never entirely get over losing them, but the hurting does lessen with time. You are in my thoughts and prayers.
Love, Fran
Jennifer K.
Oh Janet, I'm so sorry. You had him quite a long time, but it is never long enough when they are so special. You are in my thoughts and prayers at this difficult time. I am glad you have great memories and I am praying the time comes soon when they make you smile more than cry. My thoughts and prayers are with you.
The soft life of a senior, Revel @ 14 1/2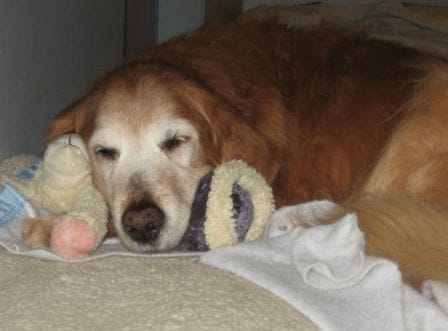 Tracey C.
Oh Janet, I am so sorry to hear this. May your wonderful memories fill your heart.
Tracey
June S.
Janet: I am so sorry..'been there' recentlyI know I will NEVER replace/forget him.
Hank H.
Janet I am so sorry he did not get to spend more years with you. You and yours are in our thoughts.
Joyce O.
Janet, I am so sorry for your loss of Revie. It is something we all dread with our dogs. Know that we are all thinking about you. Joyce
Jodi C.
My deepest sympathy on your loss...so many memories together, they will stay with you forever.
Know you will always keep him in your heart.
Thinking of you, Jodi
Sue N.
Oh Janet, I am so very sorry. I know your heart is breaking right now. Sue
Rest well my sweet soul, Love Mom