Joyso Golden Retrievers References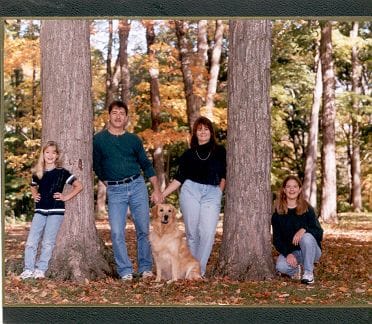 Name: Cynthia McLaughlin
Comments:
I speak nothing but the highest of gratitude for Janet Mclean.
From the first time I called and heard her voice mail, which told me exactly where her heart was, to when she returned my call and talked for sometime about the breed. At that point I could make a decision to move forward, and we did. Janet then had us come and visit her brood and see how we interacted with her dogs, allowing us to ask questions. It was apparent at that time Janet's dogs are everything to her and I was so impressed by her and her knowledge and heart. I must say I wondered when she said she would select a puppy that would be suited for us, if there was one available. What happened after that was many months of interactions from Janet on upcoming puppies and how at that time two moms were carrying. Visiting and visiting and showing us the entire process from a couple days old to when she picked up a pup and said her is your boy! I saw no other puppy just him, we fell in love immediately. But one (there were many best things) of the best things Janet could have done was be there for me/us anytime from the start, and I'm talking years later when I had a concern. What I love about Janet is her love of the breed, her dogs and pups they come first, no matter what. Janet I am grateful for what you have taught me, for my Shaker and your love of the Golden.
Name: The McArthurs
Comments:
We purchased our 1st Golden Retriever from Joyso after researching both the breed and numerous Golden breeders. We have never been disappointed in our choice -- "Seiko" (our 'watch' dog) has been a joy to our family for 10 years now and the after purchase support received from Janet has been fantastic.
It is wonderful having a safe place (ie, Camp Joyso) to have Seiko stay whenever we are traveling somewhere she can't join in. We lucked out ... not only did we get a delightful addition to our family but also ended up with a great friend in Janet. We've seen all the litters since Seiko's and look forward to seeing many many more!!
Name: Chris Easton
Comments:
We contacted Janet and were invited to come and see her litter as a family. The pups were not ready to go but she felt it would be a good idea to view them to see if we were ready for a golden addition to our family. We had no pressure to make a purchase or to make up our minds on our visit. We also were offered the names of some other responsible breeders who had pups at this time to contact. We originally were looking for a female, but were quite taken by how gentle all the dogs were, males and females, with our family on our visit. Especially since I had a two year old toddler with me. We were encouraged to play with both pups and adults for as long as we chose. After leaving we then reconnected with Janet and decided to purchase our first golden. Janet then requested that we come for visits over the next few weeks until the pups were ready to leave. She used these visits to match our family and lifestyle with the temperament of the pup.
She chose which pup would be best suited for us and she made a fantastic match. Our boy Max is now nine months old and is my daughters best playmate. We had an in depth agreement on our adoption which seemed a lot at first but in retrospect it shows what a compassionate and responsible breeder should be. We were sent home armed with much insight into our golden's traits and have been able to rely on Janet for any questions that have arisen. We have been encouraged to contact if assistance is needed even boarding is available. Our first obedience sessions were with other goldens from Max's litter. Everyone commented on Max's looks and gentle ways. He is highly sociable, a great car rider and welcomed wherever we go. If in the future we were going to acquire another golden or knew of someone looking for a golden we would highly recommend Janet to them.
Name: Rob Paynter
Comments:
Marvelous Molly has been a vital member of our family for more than 6 years. She has a placid temperament indoors (lots of cuddles) and a playful nature outdoors (please, throw that ball again!) She's loyal, walks obediently off leash around the neighbourhood (but loves to chase squirrels, when given the okay) and welcomed our cat into the house with open paws. The loving and determined care Janet takes with her Goldens is fully evident in our Molly. We're fortunate that Janet lives nearby and Molly can board when we travel. It's also provided us with an ongoing relationship with Janet. No surprise then that our family is a big supporter of Janet's devotion to the breed. She raises wonderful pets. And no surprise, also, that Molly always looks forward to her visits home to Joyso. Thanks, Janet.
Name: John & Kathy Langmuir
Comments:
Our "Hogan" is the son of Revel & Honey but more importantly, a product of the most caring breeder of Golden Retrievers that a prospective owner could ever desire. We cannot emphasize enough; the time and effort that Janet McLean
takes to ensure the beauty of her puppies are matched only by their temperament and loving disposition. Janet is a wealth of 'golden' knowledge and takes particular pride in fully researching genetics, blood lines and, has an uncanny ability to match puppies with owners. We feel very fortunate to have been referred to Janet. We have gained both a treasured family member in "Hogan" and, a valued family friend in Janet. We have no reservation and unconditionally recommend Janet to anyone wishing to experience the treasures of a "Joyso" golden.
Name: Neil and Jill Fulford
Comments:
We had been without a golden in our home for about a year and a half when we spotted a beautiful male puppy playing in a neighborhood park. A brief chat with the owners - that included a glowing recommendation of the breeder - led us to Joyso and Janet McLean. Quite differently from our previous experience with a breeder, Janet was meticulous in her assessment of our suitability to adopt one of her puppies that's right, she decided if we were worthy of one of her puppies, and she decided which one it would be. We visited often and played with all of the puppies in the litter (each one wore a different coloured ribbon around its neck) while Janet observed the interactions. After our last visit, she called to ask if we would like to have "the little girl with the pink ribbon"and that is how Maggie came to be part of our family.
Maggie is the quintessential golden retriever, with the beautiful lines and long ears of her Daddy, Revel, and the wonderful, gentle temperament of her Mother, Habit. We could not have asked for a better companion for ourselves and our young sons. Thanks to Janet, we have a loving, gentle, beautiful and intelligent creature who makes our home complete.
Name: Jim and Margaret Keith-Brophy
Comments:
Our Charlie is a big lovable clown. He is confident, trustworthy, and affectionate. From the time he was a small puppy, Charlie has traveled with us extensively and has adapted well to many situations. He has brought so much fun into our household. Charlie loves to play (he's a retriever, after all) and often makes us laugh out loud. People stop us in the street to ask about him, he is so beautiful and majestic looking. Now six years old, he has had no health problems and is still strong and energetic. Janet has been such a wonderful support to us, never hesitating to Charlie-sit when the need arises. We are very grateful to her.

Name: Alan & Patti Leschied
Comments:
Janet McLean is simply the best breeder you could imagine. She is not only responsible in developing the breed --she stays with you for support all the way, celebrating the puppies that she has helped give life to. Can't imagine a more positive experience!

Name: Heather and Wayne McParland
Comments:
We have had Golden Retrievers for 3O years, and when the time came to add to our family,we were fortunate enough to have met Janet Maclean. She introduced us to our precious Miss Reilly. Janet is devoted and passionate about her dogs, and we would highly recommend her as the ultimate breeder.

Name: Ken and Lori Payne
Comments:
I met Janet 20 years ago while working at the Vet. I thought she was an amazing breeder and person then. Over the years I have not only watched Janet become the BEST Golden Retriever breeder there is, she has also become a very good friend. Janet puts her heart and soul into every decision she makes with her kennel, her breeding and her puppies. This is not just a career for Janet; it is her life... her world! Our family was extremely blessed 10 years ago when we adopted our baby, "Dreamer". A perfect blend... a little bit of Joy and a little bit of Revel. In our minds the best Golden ever!!! Janet has been there for our family every step of the way. Janet, you made the right decision when you placed Dreamer with our family and we made the right decision when we picked you as our breeder and our friend. You are the Best!!

Name: Lisa, Christine and Amelia Wilde
Comments:
I have been a friend of Janet's for years and have watched her grow into the fabulous breeder that she is today. I have witnessed the process of pouring over pedigrees, meeting other breeders, looking at potential matches and I know what a painstaking and exacting process it is for her. Recently, my family and I were very fortunate to become Joyso puppy owners and we couldn't ask for a better boy than our Angus! Good Health, amazing temperament, physically beautiful and a personality that is truly a marvel to behold. We couldn't have asked for a more wonderful companion.

Name: Steve and Susan Cole
Comments
Just wanted to let you know that we are absolutely loving our new family addition.... Puppy Cole... His call name isn't quite confirmed yet but we're leaning toward Kaiden (Kai). It's got a nice Scottish ring to it, is easy to say and use with commands.
For the first two days, it seemed the baby only wanted to sleep, but has since come to life! He eats, plays, does his business outside and loves to cuddle!
I got a call from Country Club for Pets to say that the First Step Obedience class has been moved to Jan 5th, so in the interim will work on some of the basics....he's started to learn 'come' and 'down' (I think he's a smart little guy!).
Hope all is well with you! We'll keep in touch!!
Take care
Sue and Steve
Btw he's enjoying the big pink pig and little Dalmatian toy you sent home with him.

Name : Connie Morotto

Comments:

Thought you would like an update. Lita has fully settled in I would say.
She's adjusted to the cats, bonded to me, and I to her.
We enjoy the outdoors together
My boys are quite pleased with her as well.
She has new friends, my neighbours dogs rusty, and little Ellie whom she sees daily. We have met and she has played with other dogs on our longer walks at the park.
I must thank you, and Leigh for helping me. She's a great dog!
Connie

Name: Boh and Mary Kinczyk

Comments:

Hi Janet

After Thorkle was born it seemed to take forever for her to grow big enough to take home, but her first year has just flown by. What's up with that?
In the last few months she's pretty much become the central fact of my existence. What a great joy! Pretty face, very expressive tail, curious & mischievous, always happy to present guests with a special chewed on toy.
She has lots of dog & human friends & she strikes me as a very happy dog.
Thorkle loves the water--in fact, she can make me feel as if I'm abusing her if I don't take her for her daily swim.
She had a few wonderful days camping at Port Burwell & we're just back from a couple of very relaxing days at Rondeau.
On Thursday night she was doing a little security check around the campsite & met an unwelcome prowler--Mr. Skunk.
Thorkle, as you've guessed by now, no longer has that irresistible puppy smell.
At Pawlooza Thorkle tried dock diving & while she didn't break any records, she got much appreciative applause for her efforts.
She came home with an elk antler & a bull pizzle & a couple of nice plushies which she shredded in record time.
So thanks again, Janet. You picked the perfect puppy for us.
Hope you & your canine companions are well.
Boh

Name: Dave and Janis Sutherland

Comments:
Hi Janet,
Shanty is such a great boy, we are extremely thankful to the powers that be that pointed us to you and your puppies!
We have never owned a big dog before and are amused and amazed every day at his personality and behaviour.
He weighs 65 pounds now!
He seems to know what we are saying to him all the time and sometimes he talks to us the way his mom did when we were there for a visit. That is so cool!
The only time we have any trouble from him at all is after his hour or hour and a half walk in the evenings.
When we get back, he seems to still have a lot of energy, but not the good kind.
This is when he barks a lot and bites us and generally misbehaves.
We chalk it up to being over-tired at that point and, like a child, just can't seem to turn it off.
So we fill a Kong with peanut butter and Cheerios and this acts like his soother and keeps him quieted down for about 30 to 45 minutes.
Then, Dave usually is ready for bed by this time so he and Shanty conk out.
He is so much fun and we all love him to bits! Thank you for taking the time to create such an incredible union that gave us this fantastic boy!
Have a great weekend, Janet! You're the BEST!!!
Janis