Joy's Puppies
Here we have pictures of some of the goldens from Joy's 3 litters.

We'll start with her 1st litter which was born Oct. 1993..whew time flies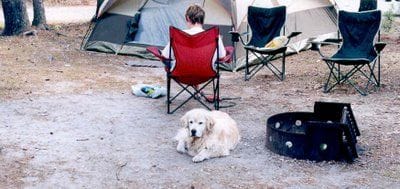 BEAR , camping with his family
BEAR, lived in to his teens , seeing his 2 boys through their childhood and off to college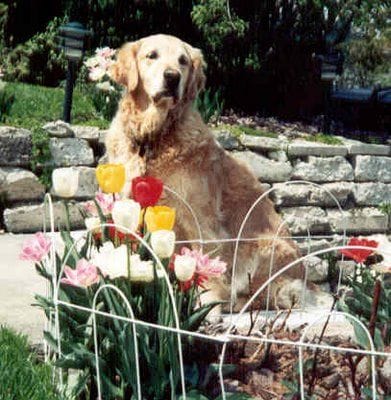 ANGEL, is the female I kept from my very first litter.
Unfortunately 1 of Angel's hips did not pass the OFA clearance.
Making the decision to not breed Angel, she went to live with my parents.
Angel also lived well in to her teens , living the good life with my mom & dad.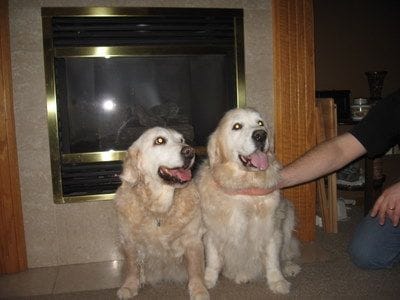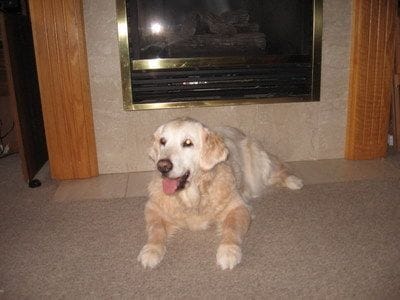 HAPPY 15TH BIRTHDAY BEAR & ANGEL!!!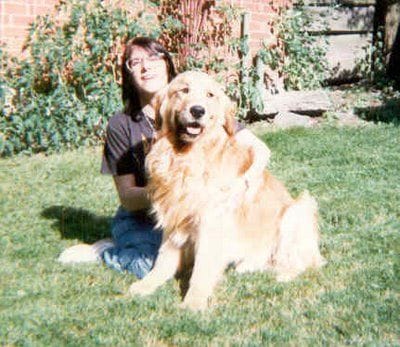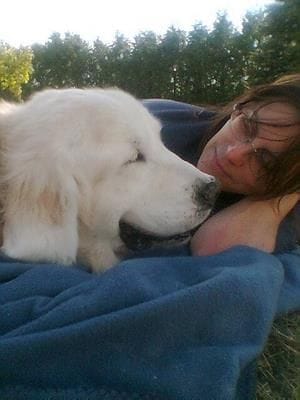 CODY at age 6 CODY at age 13

CODY, took a very long and winding road to end up living with my sister.
I had originally sold Cody to a breeder in the US.
When Cody was 3 this lady decided she no longer wanted Cody and asked for my help in finding a home for him.
A fellow golden breeder friend of mine, here in Ontario, expressed an interest in purchasing Cody.
So, Cody came to live with her .
We soon discovered the reason the lady in the states had wanted to sell Cody, he proved to be infertile.
With that information in hand, my friend said that we should try to find a nice home for him where there would be no showing, breeding expectations.
The only expectation would be that he be a wonderful companion.
My sister had expressed an interest in acquiring a Golden Retriever and so , at the age of 5 , Cody found his way to his forever home with my sister.


Now we will move onto Joy's 2nd litter which was born Feb 18th 1995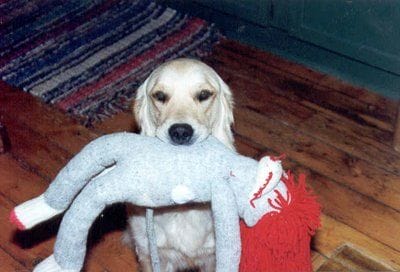 MAGGIE, is the female I kept from Joy's 2nd litter.
Maggie ended up with Juvenile Cataracts, which will never affect eye sight but we cannot breed a dog who has them.
Although this was disappointing news for my breeding program, it was wonderful news for both Maggie and myself.
My mother knew that I was looking for a companion home for Maggie, she also knew of friends of her's who were looking for an adult Golden Retriever.
She referred her friends , Ian & Paulette Robertson , to me.
The result being, Maggie went to live a very spoiled life with Ian & Paulette, and I welcomed 2 people into my life who have become life long friends.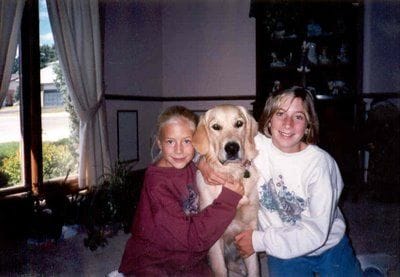 Gentle JAKE with his girls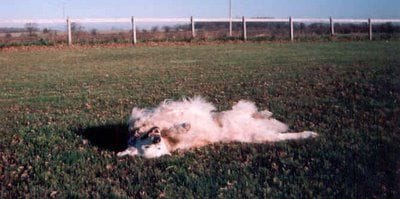 JACK, enjoying a roll in the back yard.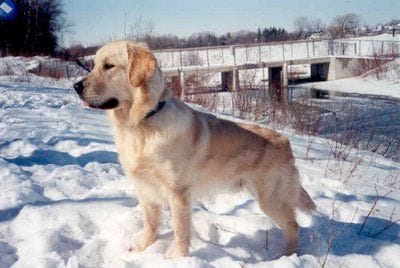 MOLSON enjoying a wintry walk in Toronto.
----------------------------------------------------------------------

Now we will move on to Joy's 3rd and final litter, born May 1st 1996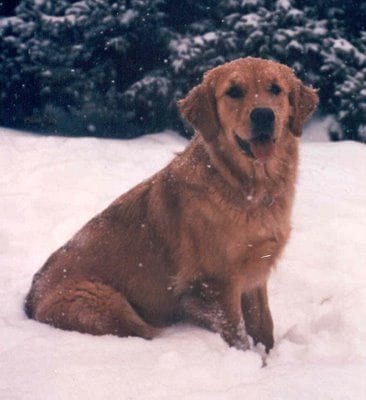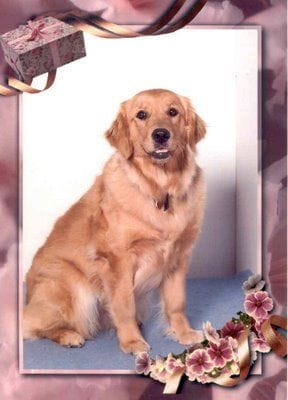 DREAMER, is the female, I kept from Joy's 3rd and final litter.
She was my last hope to continue on with a Joy offspring.
Unfortunately, Mother Nature was not going to allow that to happen.
Although Dreamer passed all of her health certifications, she lacked the confidence I like to see in a golden.
Not wanting to risk her passing that timidity on to her off spring, I decided to spay and place Dreamer.
A vet tech who worked at my vet's was looking for an adult golden and asked if I would let Dreamer go to live with her family.
A lovelier home could not have been found for Dreamer.
JOYSO'S TIMELESS SAYKO aka "SEIKO"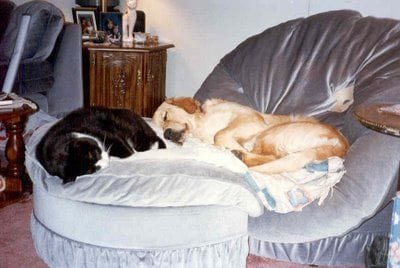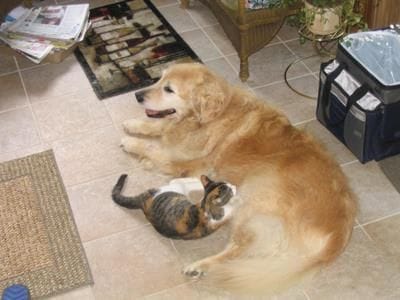 Cats always seemed to love Seiko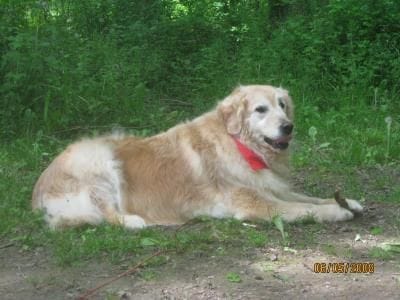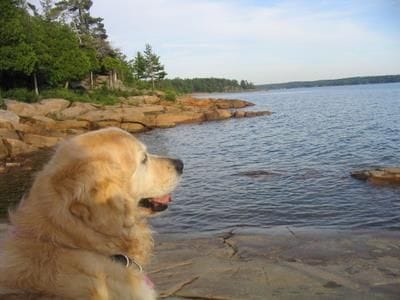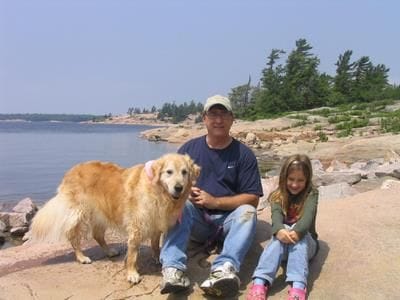 SEIKO AND HER FAMILY CAMPING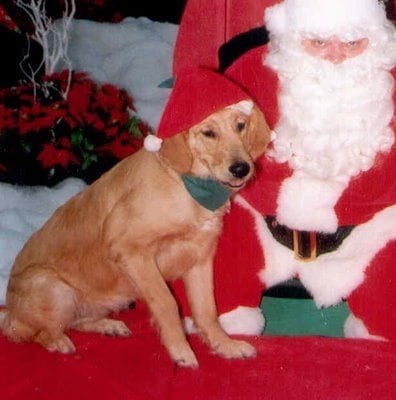 TANIS visiting with Santa