Joyso Golden Retrievers
Presents
CH. Goldcap's Revel Rouser of Joyso CD, WC, JH, GRCC VC
"Revel"
Sire: CH Rush Hill's Revel At Allsgold
Dam: CH Bramvista High Hope Of Goldcap
Whelped: April 06 1994
OVC hips / elbows normal, OFA hips excellent / elbows normal, OFA heart normal, annual CERF clear eye exams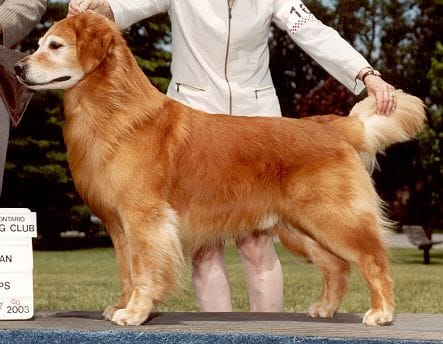 Revel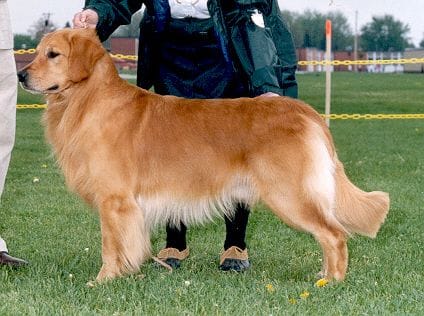 Revel - Best of Breed (1998)
Achievements:
Everyone will have their "once in a lifetime dog" and Revel is mine that's for certain.
Where to start...at the beginning I guess :-)
I have always been partial to the boys when it comes to Golden Retrievers.
They are just so uncomplicated and devoted...they are very simply....the perfect companion :-)
Having lived a few months without my boy, Sammy I was definitely feeling at a loss without a male Golden Retriever in my life.
I called my breeder friend, Stevie Aitken of Goldcap Golden Retrievers in British Columbia and asked her if she knew where I could find a male with her lines behind him.
Stevie had been producing very healthy, sound, well rounded Golden Retrievers during her time with the breed.
(my Joy was a daughter of Stevie's CH Goldcap Montague OS)
Stevie said "you're in luck, I have a litter on the ground right now and if you want a boy, you can have one".
Boy did I ever luck out and I will be forever grateful to Stevie for letting me have my Revel boy!
Revel stole my heart the moment he strutted out of his crate into my arms, at the Toronto Airport.
Revel and I had started out on a journey together that has taken me to many "firsts".
With me by his side (for better and sometimes for worse ), Revel achieved the following titles and placements.
*CH : going BOB a few times along the way.
*WC & JH : despite the constant ridiculing by some of the "real field trialers", about him being a "show dog" not a "field dog".
Revel achieved these field titles failing only 1 trial along the way due to a mistake I made (yes it was one of those times that Revel would have been better off doing it without me ).
The same year he earned his WC & JH, Rev took 2nd place, out of 30 field dog entries, in the year end Singles Championship.
When Revel and I walked up to get his trophy I turned and proudly said "not too shabby for a show dog" :-)
*CD : in 3 straight trials
By obtaining these titles, from these various venues, Revel earned the GRCC Versatility Certificate.
Another proud moment for Revel and I, was when we were presented with this certificate at the GRCC Annual Awards Banquet.
There was not anything Revel would not do for me, if I asked it of him and was at his side while he was doing it.
The next year I had planned to train and trial Revel for the next level in both the field and obedience venues, but life had something else in store for me and by extension Revel.
I became sick and needed to be hospitalized for 6 months that year.
The support of friends and family were two very important things that helped me through those difficult months, but there was one more very important thing.....
The picture of Revel and I when he earned his JH title was with me and thanks to a wonderful hospital policy, SO WAS MY REVEL!!!
We would travel around the beautiful hospital grounds, Rev walking at my side. First when I was in my wheelchair then eventually as I made progress with my walker.
Many other patients also looked forward to and reaped the benefits of Revel's frequent visits.
I had so much to work toward, to get better for...to go home to and thankfully I did just that.
Once again, Revel showed that it didn't matter what was "thrown at him" he would handle it with ease.
My experiencing "all that is Revel" has also made me set very high standards as to what I will and will not accept when it comes to breeding Golden Retrievers.
When you have had the privilege of having a Golden Retriever in your life,
*Who has it all, flawless and dependable temperament, breed type, correct structure and movement.
*Who passed all health screens with excellent, good and normal ratings.
Who does it all, field, obedience, breed activities and temperament tests with ease and simply because he can and you have asked him to.
*Who gives you all without question and is always by your side......
HOW COULD YOU SETTLE FOR BREEDING LESS!!!!
I know I cannot.
---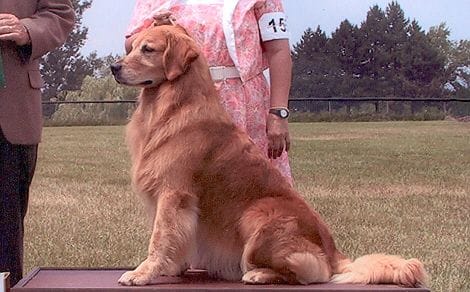 "Best Field Dog GRCC Regional Specialty"
(2001)
---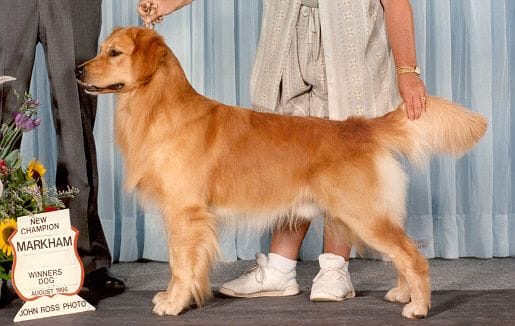 "New CH"
(1996)
---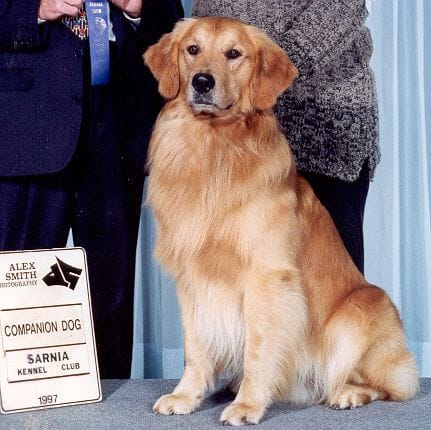 "New CD"
(1997)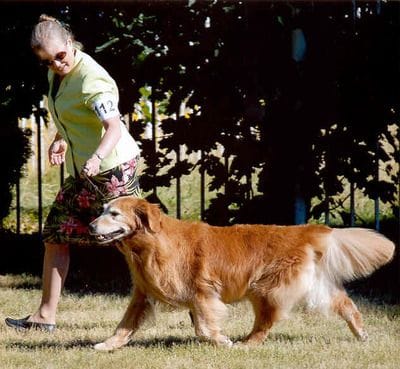 "Revel on the move at 13+yrs of age"
---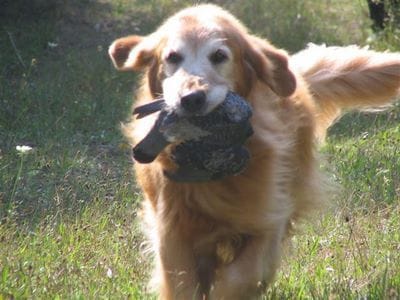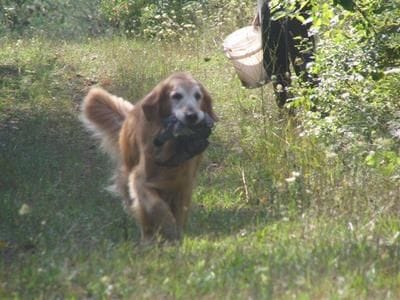 "Revel retrieving at age 13+"
( fall 2007)
---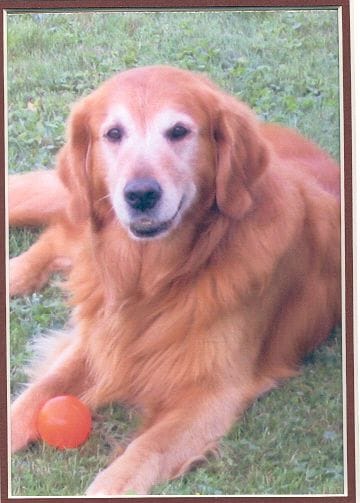 "Revel at home at 13+"
---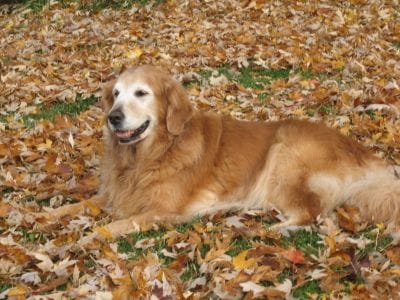 "Revel enjoying his yard at 14+"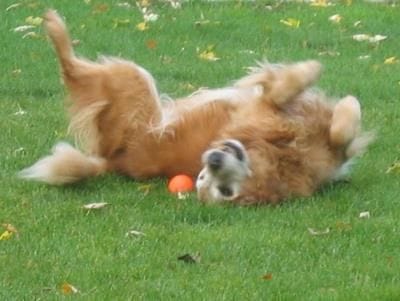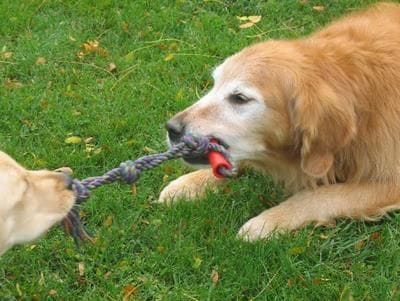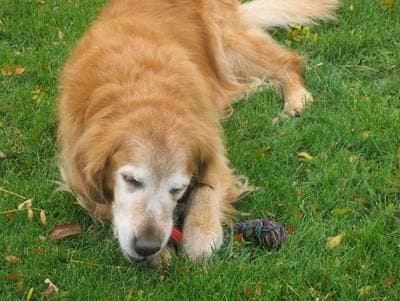 "I won"

Click Here to see more of our Dogs
.