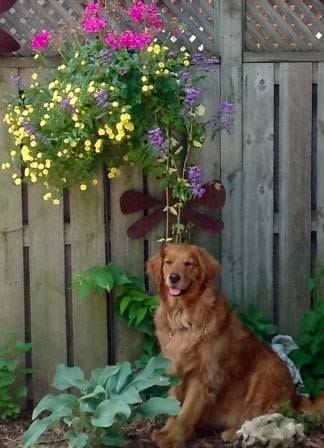 PLACING OLDER PUPPIES / YOUNGER DOGS
Every now and again breeders find themselves in the position of having to place a golden retriever who we have kept as breeding hopeful

This happens for a couple of reasons such as:
1) A puppy I have kept as a show / breeding prospect is not turning out as hoped.
These older puppies are normally around 1 - 1 1/2 yrs of age, which is typically the age when we look at how a particular dog we have kept is maturing and when the health screening pre-lims are done. This can be due to their breed standard / breed ring conformation / how closely our golden retrievers fit our ideal picture of what our breed standard describes (as we strive to keep moving forward in our breeding programs we set goals as to what we hope to achieve with each breeding we do, with the hope that each generation will be an improvement on then the previous one). All reputable golden retrievers have a strict list of health screens as well as their own personal priorities which any golden retriever we keep for breeding purposes must pass before we can decide to keep that individual dog and incorporate them into our breeding program. Even though we try very hard, by breeding health screened parents, Mother Nature always has the last say in things and as such there will be off spring of these health screened adults who do not pass a health screen. This in no way means the puppy will not live a long and happy life, it simply means we can not take a chance on breeding that particular golden retriever.
2) The other reason a responsible breeder may have an older puppy or a younger adult golden retriever to place is when the female has had her litters and has made her contribution to a breeding program.
Now I know to some this may sound like an insensitive thing for a breeder to do but in reality it is just the opposite! Rather then stay here and be 1 of a many dog household (where she will not get the attention she once did as that focus now needs to be on the up n comers), she can be placed with people where she can be either the only canine companion in the home or 1 of 2. This means she will receive much more of "the good stuff" life has to offer.
Yes it is difficult for me to place a female who I have shared my life with for that length of time but I must be unselfish and let such a girl go on and live the spoiled life she deserves.

*****There are presently no young adults , older puppies available and I do not forsee any becoming available in the near future *****