Joyso Golden Retrievers
Sonyc's I Know Tears Of Joyso "Golly"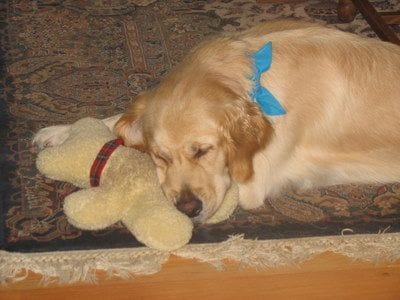 Golly
Achievements:

Sonyc's I Know Tears Of Joyso aka "Golly"

I spent the month of July 2010 at Kathy Carbone's home caring for 16 golden retriever puppies & 8 adult goldens...WHEW...that's work!!
Truth be known, I spent most of my full days caring for & playing with the puppies..not so much a chore as a delight ;-) I got to know those puppies pretty well and 1 little girl kept catching my eye. Not because she was always a front 'n centre or a structurally a stand out kind of puppy, more so because she possessed this confident yet sweet temperament combination that just endeared her to me.

When puppy evaluation time came, this girl was almost passed over because she was a moderately structured kind of puppy. The wise words of my early mentors kept echoing in my mind "always look at the overall picture of the puppies you are assessing, don't get caught up in the bits 'n pieces". This particular girl had that overall & balanced physical picture as well as a super temperment to complete the package. So, Kathy and I decided, this girl was the 1 for me to take home with me.

When I started packing to leave my temporary home of 30 days, including the humans & canines I had become close to and was going miss when I left, my tears started flowing. All the way on my return trip home, I kept trying to think of a name for this girl of mine. I thought it important to incorporate the strong emotions I had experienced into this name. The name I decided upon being "Sonyc's I Know Tears Of Joyso", which would contain both Kathy & my kennel names & my emotions in what I thought to be a unique way :-)
Now all I had to do was come up with a call name for this special girl.
Kathy is a fan of all things Celtic, so I started there. In my search, I came upon "Gol" which is the Celtic word for "tears / crying" Adapting it just a titch to "Golly" and there you have it :-)

Golly has fit in so very well her at Camp Joyso.

Her sweetness, love of life and confident manner constantly shine through. I am very thankful I decided to bring this girl home with me, she is special, no doubt about that!

~~~~~~~~~~~~~~~~~~~~~~~~~~~~~~~~~~~~~~~~~~~~~~~~~~~~~~~~~~~~~~~~

In the summer of 2011, very dear friends of mine, Alan & Patti, found themselves in need of some golden companionship.
At first they expressed interest in one of Lucy's puppies but they were all spoken for. I had been thinking of placing Golly for some time, as she just wasn't growing into the physical breed specimen I had hoped she would, but her sweet, sweet nature was making that a difficult decision for me to make. Now that the perfect home had presented its self, I had to give that decision serious thought.
When I first mentioned the idea of Alan & Patti taking Golly, they had rejected that notion, preferring to raise their companion from puppy hood. I explained to them, the reasons why I was thinking of placing Golly, those being not just the physical reason but also her sweet nature just wasn't going to be able to blossom here in my multiple dog home, and asked them to please give Golly some serious consideration.
Alan & Patti came to my home to discuss the idea of getting Golly vs waiting a year for there to be puppies at Camp Joyso. After spending the afternoon with Golly they agreed to take her home with them...for a trial stay. The next morning, I called them to see how the night had gone, they told me they had just got off the phone from talking with their vet...to book Golly's spay. Alan & Patti summed it up lovely saying, "Golly needs us as much as we need her".
Looks like Golly with her sweet nature had won over her new family, in very short time :-)
Who would have thought that Golly made the journey all the way here from Virginia to end up with my friends.?
Showing you...you just never know.