About Joyso Golden Retrievers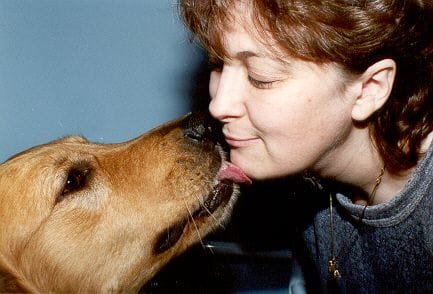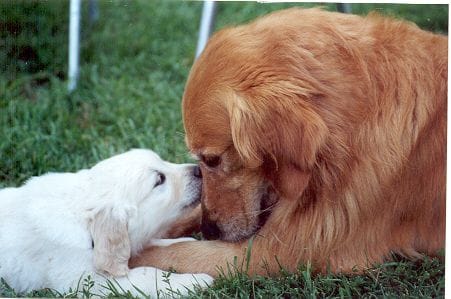 Hello and welcome to Joyso Golden Retrievers, fondly referred to as Camp Joyso by our friends
HISTORY
Golden Retrievers entered my life in 1986 with the purchase of Sammy my first Golden Retriever companion.
When I acquired Joy my second Golden Retriever in the early 1990's that led me to become an avid student of this beautiful breed. The more I learned about Golden Retrievers, the greater my love and respect, for all that is wonderful about them deepened. This love and respect instilled in me the desire to contribute what I could to keeping these wonderful golden characteristics present in this breed.
KNOWLEDGE
With the guidance of some knowledgeable "old timers" (a term I use with great admiration) as a strong base, I started to breed Golden Retrievers.
It is a path that has had many hills and of course valleys but I would not want to have missed either, as I believe we should learn just as much from both the fortunate and the unfortunate.
I have been a member of the CKC for over 30 years.
I have been a voting, member in good standing, of the Golden Retriever Club of Canada since 1990.
As such I abide by the GRCC Breeder's Code of Ethics and you will find Joyso Golden Retrievers on the GRCC Breeders List.
I have held the position of 2nd Vice President of the GRCC
I have held the position of Trophy Curator of the GRCC.
(for more information about the GRCC please go to the "links" page)
RESULTS
All Joyso Golden Retriever litters are the result of careful pedigree research. We've traveled thousands of kilometers to find a suitable mates, in the effort to contribute to the improvement of the breed in general and our litters in specific. All the Golden Retrievers involved in my breeding prop gram have the required breed health clearances. Most importantly they possess that true Golden Retriever temperament which is the hallmark of the breed. These qualities make a Joyso Golden Retriever a golden companion that will add immeasurably to your life.
All Joyso Golden Retrievers are sold on CKC non-breeding agreements to help preserve and protect the breed's future and all the qualities that first attracted people to this wonderful breed.
NEXT STEPS
Here's a summary on a couple of our pages, to help guide you through your tour.
Litter Information - will share with you upcoming litter plans and the availability of either Golden Retriever puppies or adults.
Purchasing Guidance - is designed to clarify some of the confusion around the number of different means for which to acquire a new dog companion. It is dedicated to supplying those who looking for a Golden Retriever puppies information which they may find helpful. It is always best to try to be an educated consumer.
Health - contains information on various health issues which can be associated with the Golden Retriever breed. As new information is always being gleaned from research and personal experiences this page is constantly being updated so please check back often to keep informed on relevant health issues of the Golden Retriever. NB - Feel free to contact me with suggestions of issues you would like to see included on that page.
Now that I have briefly introduced my web site and myself to you it's time for you to meet those Golden Retrievers who have enriched my life in the past and those who do so today. Please enjoy your visit!
After 30+ years of actively competing with and breeding Golden Retrievers, I made the difficult decision to retire from breeding them.
I am still very active in the Golden Retriever community, taking on the roles of educator, mentor and resource.
I still enjoy the company of 2 lovely Golden Retrievers, my beautiful boy Creed and his ever so spunky sister Ms Pink.