CH Joyso's Kickin At The Beach "Pebbles"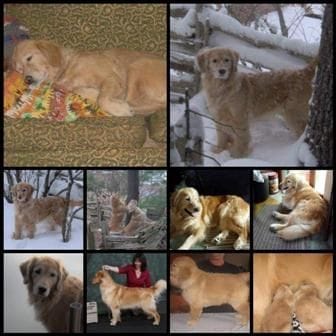 Cnd CH Joyso's Kickin On The Beach "Pebbles".
Oct 12 2009
Pebbles came into this world as ½ of a small litter consisting of 2 puppies.
These 2 littermates earned the moniker of the "Dynamic Duo".
After going through many male & female duo names, I finally decided to call them Pebbles & Bamm Bamm.
They spent the 1st couple of years of their lives with me. During that time Pebbles earned her Cnd. CH and her brother earned his.
They both retired from the show ring after Bamm Bamm earned BOB & Pebbles earned BOS at a sporting group specialty.
With the show career finished for him, Bamm Bamm went to live with my sister who was in need of a golden companion.
At one point, Pebbles went to my parent's home to be baby sat for a bit while I was going to be busy caring for a litter of puppies.
Pebbles very quickly found her way into my parents hearts and home and never looked / came back :-)
She enjoyed numerous daily walks and errand running with my father.
She enjoyed activities such as relaxing quietly beside my mother when mom was doing her favourite hobby of quilting, going through many obedience commands (Pebbles was oh so proud of herself) and "helping" mom cook the daily meals (where she took on the role of quality control. Lol)
Pebbles enjoyed trips with my parents to their cottage.
There she puddled in the lake (Pebbles was never an enthusiastic swimmer), chasing squirrels & chipmunks.
A great deal of her time there was spent relaxing in the cottage environment she enjoyed so much that my parents would have to go looking for her when it was time to leave.
Pebbles passed away in Nov 2019.
Pebbles, you were one lucky golden girl.
Thank you mom & dad for giving Pebbles such a wonderful life of a cherished canine companion.