Joyso Golden Retrievers
Presents
Absolut Sonyc Double Dutch
Sire: Am Ch Sonyc's Allegro Appassionato CD WC VC CGC OS
Dam: Absolut X-Ceeds The Speed RE CDX MX AXJ CCA TDI
Whelped: May 03 2004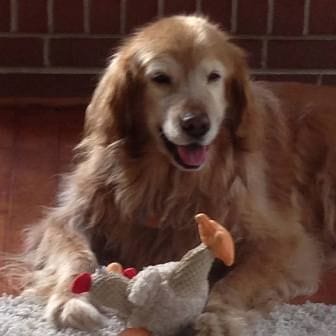 "Mocha"
Achievements:

Even though Mocha was not "my dog" she will always hold a very special place in my heart and in my breeding program. Mocha came into my life when Kathy Carbone asked me if I wanted to co -breed Mocha with her. At that point in her life, Kathy was just too busy to plan breedings, whelp & raise puppies and screen puppy buyers.

So, Mocha came to live at Camp Joyso for awhile.
Mocha's self assured confidence allowed her to adjust very well to being in a new canine pack. With her sweet gentle nature Mocha quickly found her way into my heart. Mocha would smile with her entire face , squinting her eyes and grinning from ear to ear. We fondly referred to that as her squinchy face :-)

While Mocha lived with me she had 2 litters both of which I am still building on today. My Lucy is a Mocha daughter and Sara being a Lucy daughter is a Mocha grand daughter. My Shaker is also a Mocha daughter and Brandy & Shimmie being Shaker daughters are Mocha grand daughters.

When Mocha was retired from breeding, a wonderful opportunity came along for Mocha. People who are friends with Kathy and have a golden of Kathy's asked if she would be able to part with Mocha. They thought Mocha would be the perfect sweet gentle companion for the grand mother who lives in their home. Realizing this to be a win - win situation Kathy let Mocha go fill this position. It is interesting that Lucy now fills that very same role, that of a canine companion for a senior lady.

When I read of Mocha's passing it brought back many fond memories I have of her while she lived here with me. I felt an ache in my heart and tears fell. Mocha was so very special, everyone whose lives were touched by her have suffered a great loss.
Love you lots Mocha