Call Us Today on 519-285-3467
Welcome to the "Our Girls" page. Here you will find the Joyso Golden Girls who are presently active in our breeding program.

UKC CH JOYSO'S BANDOLERO
"SARA"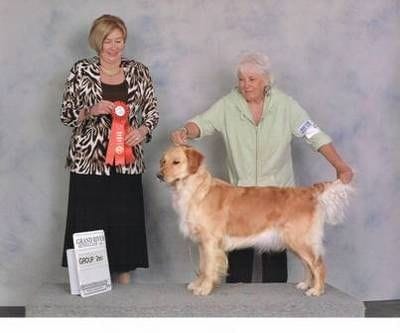 http://www.ofa.net/display.html?appnum=1725297#animal
(the link to the public data base where you can view Sara's health screen results
hips, elbows, heart, eyes, DNA))
DAM: SIRE:
Joyso's Here We Go Lucy Lu & Dauninge Kyrie Highwayman

Joyso's Bandolero "Sara"
http://www.k9data.com/pedigree.asp?ID=571998

"Sara" is a very special girl as she is the result of my combining some very nice old Golden Retriever lines with my present day pedigrees.
Some time ago, Marcia Schlehr (Kyrie Golden Retrievers est.1960) had let me know that she had collected and frozen some semen of her male "Bandit"
Am / UKC CH Dauninge Kyrie Highwayman (10/21/1990 - 12/06/2004)

For a few reasons ,I was interested in using this frozen with my "Lucy"
Joyso's Here We Go Lucy Lu.
The main ones being
1) I have long admired Marcia's priorities as far as the Golden Retriever breed in general as well as the individual dogs she produced,
2) I felt the 2 dogs complemented each other physically
3) There are a number of health issues present in the Golden Retriever breed today which had their infancy in the breed a long long time ago (obviously these things don't just appear over night). Some breeders turned a blind eye , literally, to these issues by choosing to line breed on dogs which possessed many of these issues, simply because winning in the show ring was more important to them. Marcia was one of those Golden Retriever breeders who consciously chose not to incorporate those very popular / show winning lines and dogs into her breeding program, preferring instead to breed for the betterment of the breed, to stay true to her priorities with regard to breeding healthy well rounded Golden Retrievers.
A path, a conscientious choice I share with Marcia.

I finally summoned the courage to contact Marcia to ask her if she would consider allowing me to combine her Bandit with my Lucy.
Marcia replied "of course I would consider that, I wouldn't have told about the frozen being available had I not wanted you to have access to it"!!
After Marcia looked over the pedigree and the dogs involved she contacted me saying she thought this a good breeding idea on my part and she would be happy to have it happen!
I contacted a repro vet friend of mine, who just happens to be a Golden Retriever breeder as well, and asked for her assistance in making this happen.
With her expertise 3 female pups were brought into this world.
I have my "Sara", Joyso's Bandolero
a Golden Breeder friend of mine in MI has "Slots", Joyso's One Armed Bandit Of Asoros
and "Lita" lives in Sudbury Ont.

With "Sara" turning 2 years of age, she now has her OFA Hips & Elbows, Heart as well as normal eye exam results.
With the passing of these required breed health screens as well as her sweet quirky fun temperament, "Sara" can now join "The Girl's" page of the Joyso web site.
I have some very interesting ideas running around my head when it comes to males I am considering for her .... time will tell which I decide to go with.
"Sara" has also achieved something that has not happened around here for a very long time ...
she has got me back showing my own dogs again.
The feed back I have been receiving, at these shows, from respected Golden Retriever breeder judges about "Sara" have given me some much appreciated wind under my wings ... to stay the course I have chosen to follow with my Golden Retrievers.
Thank you "Sara" ... how I have missed these fun times.
SHOW NEWS!
"Sara" earns BOB & GP 2nd under Golden Retriever breeder judge Kathy Lorentzen !
"Sara finishes her CH, also placing in group every time she won BOB!
JOYSO'S HIGHWAY GIRL
"GRACE"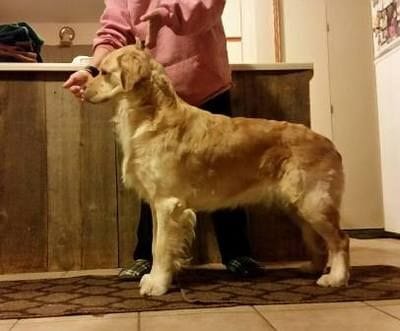 DAM: SIRE:
JOYSO'S BANDOLERO TROWSNEST SECOND WIND II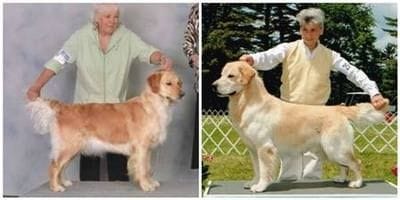 Joyso's That'sMyStory
Pedigree
http://www.k9data.com/pedigree.asp?ID=774019
Grace is the girl I decided to keep from Sara's 1st litter.
When Sara passed all of her breed specific health screens, I began some serious thinking as to with who I should breed her.
I decided to talk with Marcia Schlehr "Kyrie Golden Retrievers", to get her thoughts. Not only because I respect Marcia's breeding program but because Sara was the result of a breeding where Marcia had allowed me to breed my Lucy with decades old frozen of her male Bandit. Marcia suggested I take a look at the males that Marj Trowbridge "Trowsnest Golden Retrievers" has. Marcia suggested I pay special attention to the male named Trowsnest Second Wind II "Deuce'. Interestingly enough, Deuce is also the result of a breeding involving frozen sperm from a male long gone, Trowsnest Whirlwind "Whirly". Whirly would go on to be a very influential dog in the Golden Retriever breed and a dog Marcia incorporated into her own breeding program.

I then contacted Marj to discuss a potential breeding of my Sara with one of her boys. After speaking with Marcia to get a reference about me me, followed up with a conversation between Marj and myself about Sara, Marj agreed to let my Sara be bred with one of her boys. We would make the decision as to which boy when she had the opportunity to evaluate Sara in person. When Sara came in season, myself, Sara & my other girls made the trek to New Hampshire. When Marj saw Sara the decision was made to breed her with Deuce, the boy Marcia had suggested. So, my girls and I spent a week and a half in a motel in New Hampshire, while the breeding took place.

The resulting litter had 9 puppies, 2 males & 7 females. When the pups were 8 weeks old, my breeder friends and I gathered for a puppy evaluation party!
Grace was the female who caught everyone's eye.
Grace is confident and out going, a thinker and a doer.
Being a girl Grace is a bit more independent then her brother Gord but that will help her live in my multiple golden girl household
In the future, I am looking forward to having fun in many activities (field, obedience, conformation) with Grace!
***SHOW NEWS***
Grace earns her Conformation Certificate Certificate (CCA)
with scores of 86, 90, 95 out of 100!!

The CCA program was developed by the GRCA as an event to provide opportunity for assessment and education.
3 long standing golden retriever breeders are "hired", (really they volunteer their time to be able to give back to their breed, to assess the goldens presented to them

The dogs are 1st evaluated with regard to temperament.
Where the dogs, accompanied with their owners of course , mingle with the other entrants and their owners.
Any display of unacceptable temperament characteristics by any dog results in it being excused.

Then each dog is evaluated by each judge, individually, as to how they think the dog adheres to the golden retriever breed standard.
This is done with the dog presented stationary and then moving..
During the assessment, discussion between the owner of the dog and the judge is encouraged to discuss what the judge (and the owner) sees as the dogs strengths and weaknesses.
I love this program so very much for a couple of reasons,
1) it affords me the opportunity to learn about my breed,
Which is something I am always eager to do.
2) it also affords me the opportunity to have my dogs critiqued by my knowledgeable peers , people who know the breed..
It is always nice to know you have the respect of your peers.

My dogs are normally given scores in the 80's but this is the 1st time a dog of mine has had 2 of its scores 90+!!
The judges could not say enough good things about Grace.
It was nice to hear these judges point out all the qualities about Grace they appreciated, as I have always thought her to be one of the best Golden Retrievers I have produced.
Eventually, it ended up being me who pointed out what I thought to be Grace's flaws so that I could find out if the judges agreed with my assessment of those areas.
They all said I was being too critical of Grace and that the things I perceived as a flaws were so very minimal they did not to take away from Grace as a correct representation of the Golden Retriever breed.
OUR HERITAGE
Now that you have had the opportunity to get to know the present day Joyso Golden Girls, I ask that you follow the journey into the past of my kennel and breeding program by visiting the pages of the girls who, over the decades, contributed their soundness and truly golden characteristics to each generation of Joyso Golden Retrievers.
The saying goes ... "the strength of a good breeding program is found in its girls" as they will stamp themselves and what they have to offer generation after generation.
On the strength of sound healthy females, a breeder can confidently incorporate a variety of differing males , lines, pedigrees on which to build their future.
I hope you enjoy learning about my past golden girls as much as I enjoyed sharing my life with them.

"Mocha" who gave me both Lucy & Shaker - click on image to learn more...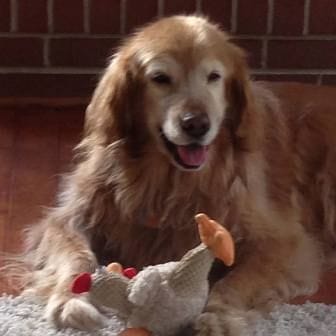 "Lucy" my BPB / BPG winning golden girl, who gave me Sara who has now given me Gord & Grace
http://www.joysogoldens.com/retired---lucy---ch-joyso-sonyc-here-we-go-lucy-lu.html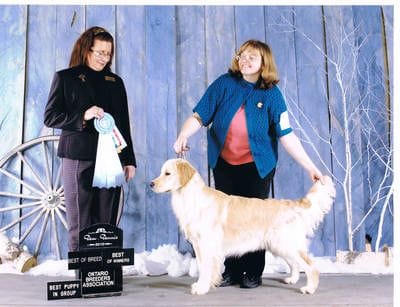 "Shaker" who gave me Shimmie
http://www.joysogoldens.com/retired---shaker---joyso-sonyc-mover-n-shaker.html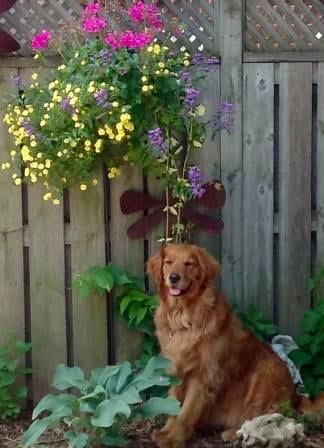 "Pebbles" my multi BOS golden girl who gave me Surfur
http://www.joysogoldens.com/retired---pebbles---ch-joyso-s-kickin-at-the-beach.html