JOYSO'S UP AROUND THE BEND "CREED"






Creed, a litter mate to Ms Pink, is from Sara's second litter.
This litter was the result of breeding Sara with frozen from "Bentley".
I chose Bentley for a couple of reasons
1) he was a true classic golden both physically & in temperament.
Bentley was a breeder judge's dream,
meaning that golden retriever breeders who were also dog show judges really appreciated him
2) Bentley possessed a pedigree which was related to the male I had bred Sara with for her first litter.
this allowed me to do a breeding which was similar to Sara's first litter but with just a little different added in.
Creed's pedigree is an old one steeped with prominent Golden Retrievers from the breed's past and he wears his pedigree proudly.
Creed has matured into a beautiful adult male golden Retriever.
Creed is right where the breed standard indicates a male golden retriever should be, weighing 76 pounds
As the free stack pictures indicate, Creed is structurally sound.
Creed's dentition is good with no missing or misaligned teeth

Most importantly, to me anyway, is Creed's temperament.
He exemplifies all that a male Golden Retriever should be.
He is a very easy going, easy to live with Golden Retriever male.
He gets along very well with canines and humans of every age.
True to the Golden Retriever breed, Creed is in tune with his environment and sensitive to those who are in it.
My buddy Creed is never far from my side.

As I had retired from breeding Golden Retrievers, getting Creed's health screens done and showing him in the breed ring
were not on my mind, not priorities.
My goal being to put my feet up and simply relax with and enjoy the company of my dogs.
When my breeder friends saw how nicely Creed was maturing, coupled with his relatively rare pedigree, they asked me to at least get his health screens done.
So, I did.
Here is Creed's OFA health certification link
https://www.ofa.org/advanced-search?quicksearch=joyso%27s%20Up%20Around%20the%20bend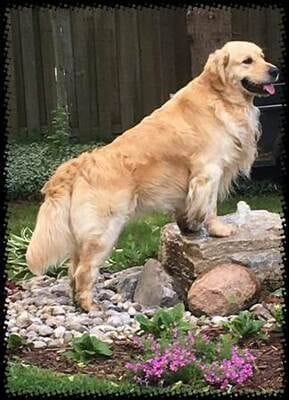 Handsome Creed


Beautiful classic male Golden Retriever head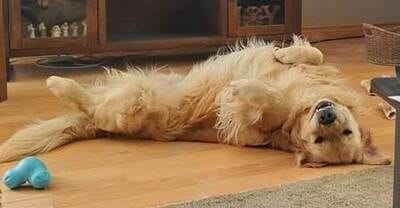 Creed, my very happy golden boy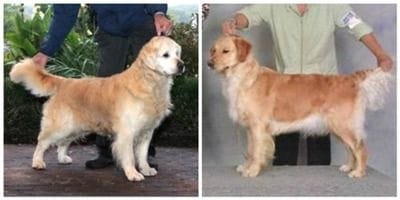 JOYSO'S UP AROUND THE BEND "CREED"
SIRE : TROWSNEST BENTLEY'S E Z RYDE "BENTLEY"
DAM : JOYSO'S BANDOLERO "SARA"

https://www.k9data.com/pedigree.asp?ID=858914