Call Us Today on 519-285-3467
JOYSO'S THAT'SMYSTORY "GRACE"
GRACE AS A PUPPY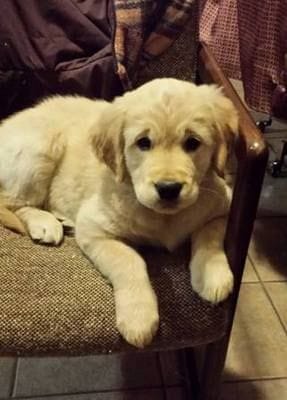 GRACE EARNS HER CCA TITLE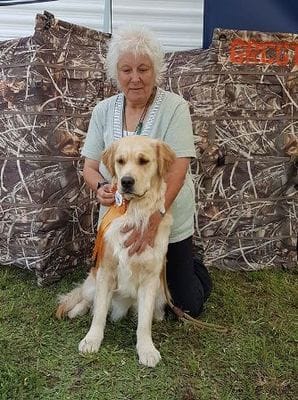 GRACE AS A BEAUTIFUL ADULT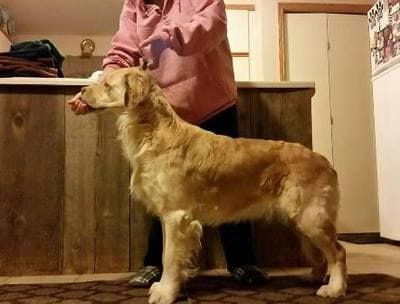 DAM : UKC CH JOYSO'S BANDOLERO "SARA"
SIRE : CND CH TROWSNEST SECOND WIND II MH *** "DEUCE"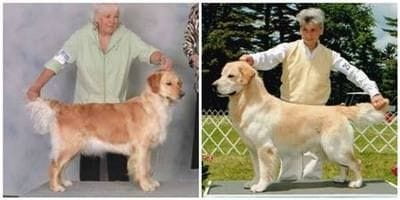 Grace is the female I kept from Sara's first litter, the mating of Deuce and Sara.
Grace is a lovely representative of the Golden Retriever breed when it comes to her temperament and personality.
Grace is a sweet and sensitive girl, always open for meeting and greeting people of all ages, always in tune to how the people around her are feeling.
If you are sad, Grace will be by your side to comfort you.
If you are happy, Grace will be by your side to celebrate with you.
Grace has inherited her mother's desire to be with people ... in spades.
Another endearing trait of Grace comes down from her grand father Whirly, that being she is a talker!
Grace will pick up something to carry in her mouth (it matters not what it is could be a small as a hair) and proceed to walk around wiggling her entire body and talk and talk.
Grace has also inherited the desire to "hold hands" which runs very strong in the Lucy / Sara lineage.
She will often sit beside someone and reach out her paw to hold your hand.

Grace is also a beautiful representative of the Golden Retriever breed when it comes to her physical structure.
The Golden Retriever Club has developed the Conformation Certificate Assessment program (CCA)
This program allows breeders the opportunity to have their goldens evaluated , assessed by knowledgeable Golden Retriever breeders.
The hosting club hires 3 breeders (actually it is on a volunteer basis, a way for breeders to give back to their breed and the opportunity to educate).
People enter their goldens to be critiqued by these 3 breeders.
The dogs entered are assessed on both their temperament and their structure.
I have always supported this program for a couple of reasons:
1) I think it is a worthy program and like to support keeping them viable, keep them from disappearing due to lack of participation.
2) I like to have my dogs assessed by people / judges who know this breed and whose opinions I value.
My dogs have always scored well averaging in the high 80's out of 100.
Grace scored the best of any of my goldens with scores of 85, 90, 96!!!

At age 2, Grace has passed the hurdle of acquiring all of her breed required health clearances, her heart, her eyes and her hips & elbows.
After much personal thought as well as discussion with the stud dog owner , I have decided which male I want to breed Grace with for her first breeding.
I was so very impressed with the puppies from the Sara / River mating that I have chosen to breed Grace with River.
This mating will see me continue in the direction (combining older trusted, tried n true lines) I started with Sara.
Please see the Litter Information page of this web site for details of this breeding.