JOYSO'S THAT'SMYSTORY "GRACE"

Grace is the female I kept from Sara's first litter, the mating of Deuce and Sara.
Grace passed all of her required heath clearances and was ready to be bred and
hopefully produce puppies which would inherit her wonderful qualities.
As I have retired from breeding golden retrievers, Grace went to live with a breeder friend of mine in MA.
Jan carried out the pretty special breeding we planned for Grace, that being to breed Grace with Jan's River.
The goal of this particular breeding being to bring forward to today, some long gone but wonderful golden retrievers
so they can contribute their truly golden qualities to the breed once again.
Jan repeated that particular breeding three times and goldens from those litters are carrying on all that particular old pedigree has to offer.
I wish those who have goldens from those litters, all the best, may all your golden hopes and dreams come true.
When Grace was finished contributing to Jan's breeding program, Jan placed her in an absolutely wonderful retirement home.
Grace will wile away her retirement living the life any golden retriever would love.
I thank Jan for both, carrying out the breeding plans we had planned and for finding such a great home for Grace.
GRACE AS A PUPPY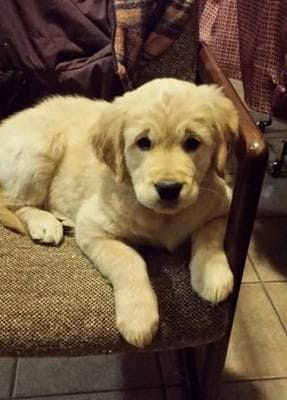 GRACE EARNS HER CCA TITLE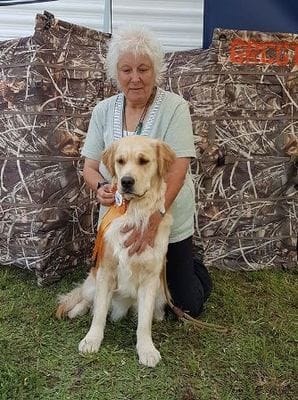 GRACE ENJOYING THE SNOW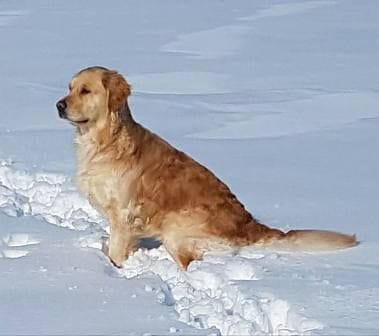 GRACE AS A BEAUTIFUL ADULT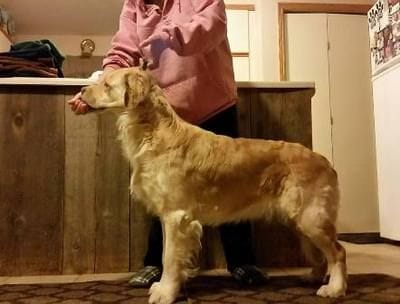 DAM : UKC CH JOYSO'S BANDOLERO "SARA"
SIRE : CND CH TROWSNEST SECOND WIND II MH *** "DEUCE"