JOYSO'S YOU'RE A FINE GIRL "BRANDY"
Brandy is the girl I kept out of my Shaker's first litter.
Brandy bubbled over with such a love of and enthusiasm for life that I could not let her leave my home.
My hope was for Brandy to grow up and help me carry on a little part of Cherie Berger's Meadowpond kennel lines which I have long respected.

Unfortunately that dream was not to be.
When Brandy was around 3 years of age, I found a very tiny lump in her loin area.
My vet referred Brandy to the Mississauga Referral clinic for treatment.
Fortunately the lump was found to be localized and removed, with a prognosis of it never returning.
Even though, Brandy's prognosis was great and many breeders and veterinary specialists do not believe this type of lump to be hereditary in Golden Retrievers, I could not in all good conscience keep Brandy in my breeding program.
A wonderful family in London contacted me , looking for a younger adult / older puppy Golden Retriever.
As it turned out we have mutual friends, who gave this family a glowing reference.
After a visit with them so they could meet Brandy, they decided to welcome her into their family.
A better family could never have found my Brandy girl.
Brandy has it all , lots of walks and swimming, gets to accompany Melanie to work at UWO and best of all lots of snuggle cuddle time at home with her family.

Thank you so very much Melanie, Jeff & Bridget for giving Brandy the best life possible!!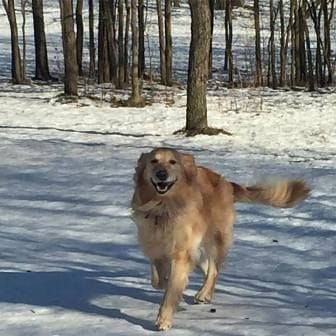 "BRANDY" enjoying life outside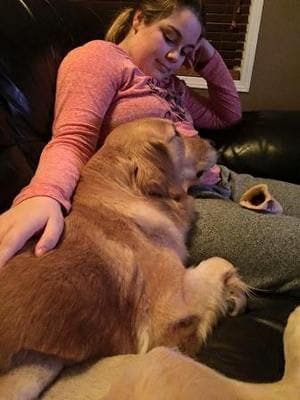 "BRANDY" enjoying life inside